Nestled in the vibrant heart of Berlin, I had the distinct honor of attending the NVIDIA AI Ecosystem Reception on July 4th, 2023. At this event, NVIDIA, a global technology powerhouse acclaimed for driving innovation in graphics and AI, was represented by its founder and CEO, Jensen Huang. So, what groundbreaking insights have I gathered from this event that could reshape ongoing discussions and advancements in the realm of urban intelligence?
NVIDIA's Founder and CEO was in esteemed company as he was joined by the innovative startups Blackshark.ai (Michael Putz), Magic (Eric Steinberger), and DeepL (Dr. Jaroslav Kutylowski), all part of NVIDIA's partner ecosystem, adding their unique insights to the enlightening conversation. Blackshark.ai leverages AI for intricate 3D world reconstructions, while DeepL employs AI for superior machine translation. Magic, meanwhile, is trailblazing a new era of human-computer collaboration, aiming to transform software development as their first step – towards a future where AI feels less like a tool and more like a colleague.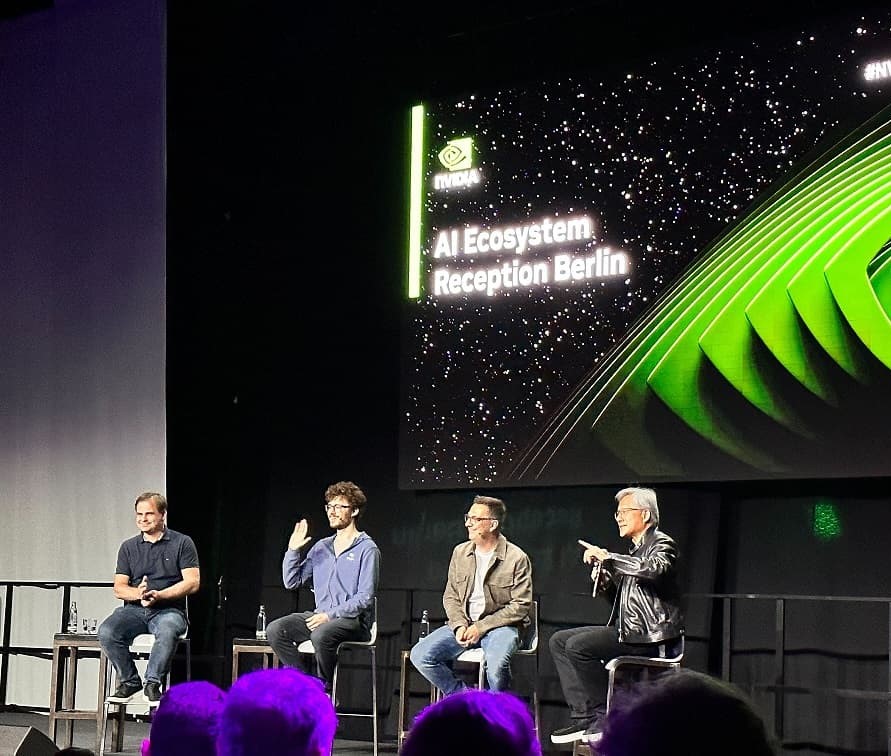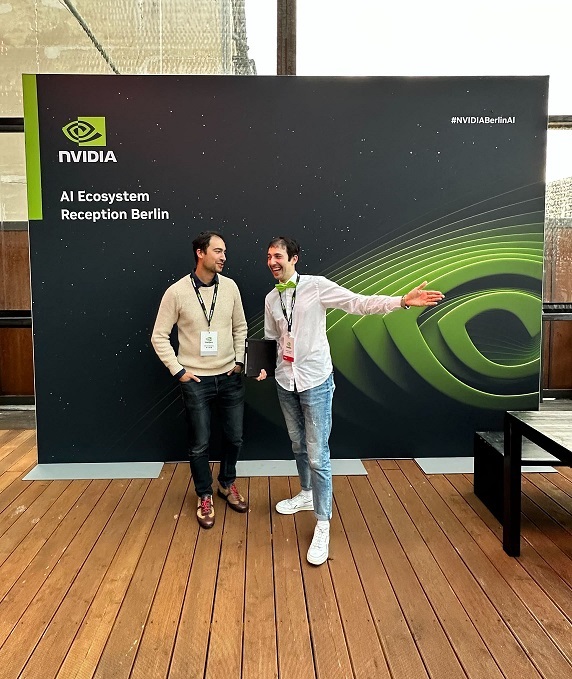 Originally, as an urban planner with a focus on smart city development, I felt somewhat like an alien entering this high-tech sphere. However, with AI seeping into every facet of urban life, I found myself increasingly intrigued by these cutting-edge technological developments. I was grateful for our tech lead Leonid's company at this event. His AI expertise bridged my urban development understanding with the progressive world of artificial intelligence.
This event was an excellent opportunity for me to deepen my understanding of AI, which is currently enjoying a great deal of hype, and its potential implications for the future of smart cities.
Now, armed with new insights, I am eager to share three key takeaways concerning AI that might play a significant role in the future development of smart cities.
1. NVIDIA Metropolis: A Smart City Enabler
Harnessing AI and IoT Capabilities
NVIDIA Metropolis is an innovative toolbox for tech companies, utilizing data generated by AI and IoT devices to develop extensive analytics and software solutions for managing cities and traffic. It allows efficient use and organization of these data to improve operational efficiency and security in various sectors of urban cohabitation, including retail, traffic engineering, and healthcare. This platform integrates visual data and AI from edge to cloud, supporting smart city providers in the development, deployment, and scaling of AI and IoT applications.
NVIDIA, with its hardware and software, provides many smart city solution providers with a toolbox to build AI applications that simplify the capture and management of urban processes. To what extent would direct exchange between cities and NVIDIA be useful in order to be able to consider the value chain more holistically?
2. Digital Twin Earth: A Comprehensive
Tool for Urban Climate Optimization?
NVIDIA aims to use supercomputers to develop an interactive platform that generates precise climate data, incorporating advancements from their Omniverse technology. Omniverse is a suite of tools that facilitates the collaborative work of large teams, and the manipulation of universal scene descriptor (USD) file types. This technology enables real-time updates and edits in modeling, enhancing workflow efficiency. The digital twin of Earth developed through this interactive platform will help in understanding human impacts on the climate, fostering sustainable decision-making. This will include detailed urban climate simulations, with the platform anticipated to be operational within five years.
Given NVIDIA's efforts to develop a comprehensive digital twin of the Earth for climate simulation, how can we leverage existing high-resolution digital city models to further the overall goal of improving urban climate optimization models?
3. The Accelerated Computing Era: Transformative
Impacts on Urban Economies and Municipal Organizations
In the computing landscape, there's been a notable shift away from Moore's Law, which previously dictated that computing performance would double every two years. Instead, artificial intelligence (AI) is now catalyzing an era of accelerated computing, rapidly advancing performance.
The arrival of AI and accelerated computing is timely as various sectors grapple with sustainability and rapid digitalization. These technologies serve as crucial tools for industries, aiding in the efficient management of resources and the transition to a more sustainable and digitized operational model.
Amid these changes, there's a pressing urgency for businesses to transform into software-driven entities. This shift is not merely a defensive move to prevent disruption, but a proactive step to become disruptors themselves in their respective industries. This trend is evident in the use of venture capital, which, increasingly, is not only deployed for developing software but also for refining it. The aim is to unlock innovative solutions and business models, thereby leveraging the potential of AI and accelerated computing to the fullest.
As AI and accelerated computing continue to transform various value chains, how might these shifts directly influence urban economies, particularly in terms of their impacts on economic development strategies, educational needs, land usage patterns, and overall city planning?
Given the transformative changes spurred by these advancements in AI and accelerated computing, how might municipal organizations need to reinvent their services to keep pace with this rapid socio-technological development?
From Vision to Reality: How can AI Help
Shape Human-Centered Cities?
In summary, for me, the NVIDIA AI Ecosystem Reception held in Berlin was an insightful event that personally revealed the transformative potential of AI on the future of our cities. A special thank you goes to Irina Shekhovtsova for extending the invitation to this enriching event.
The innovative concepts presented, such as NVIDIA Metropolis, digital twin technology, and the advent of the ac-celerated computing era, suggest an enticing hypothesis: Could AI, if leveraged correctly, fundamentally reshape our urban spaces, making them more sustainable and livable?
Engaging conversations with Emilia Beißwenger, Markus W. Hacker from NVIDIA and Michael Putz from Blackshark.ai revealed the exciting role NVIDIA and Blackshark's technologies could play in shaping smart cities. The integration of such advanced tech in urban planning and real estate sectors paves the way for a future that seamlessly merges digital and physical spaces.
Indeed, these possibilities generate as many questions as they do excitement, marking the dawn of a new chapter in urban planning. The crossroads of technology and human-centered urban design offer an uncharted yet promising path to explore. If you, like me, are intrigued by this proposition and are keen to make meaningful contributions in this space, let's connect. I invite all those interested in fostering sustainable, smart cities through the fusion of AI and urban design to reach out.
Let's Connect with NVIDIA
Metropolis to Approach these Questions